The Members and The Board of Trustees
The Members of Aldridge Education are:
The Aldridge Foundation – as a corporate member
The Board of Trustees is comprised of:
Up to nine Trustees appointed by the Members
Three appointed by the Aldridge Foundation
The Trust Chief Executive (if the Members so decide)
The current Trustees are:
Brent Thomas – Chair
Brent's career has spanned two sectors.
His first was with the oil and chemicals company Burmah Castrol plc where held a number of international operational and HR roles including as Chief Executive of Castrol Denmark and Norway, and as the Group HR Director. He held this last role until 2001 when the takeover by BP hastened a decision to try something completely different. In 2002 he started work on a project linking business executives with the charity sector, where there was a growing need for their skills.
From this emerged his second career as a social entrepreneur and founder of Primetimers. Today Brent is the Deputy Chief Executive of Eastside Primetimers, a management consultancy that works with charities on strategic change and social investment, and a Trustee of the Eastside Primetimers Foundation, that provides professional development support to talented people working in the charity sector.
Brent's educational and governance experience includes as a Board member of the Copenhagen International School, as a pensions trustee and as a Trustee of the charity Family Action, where he was the Vice Chair.
Anand Aithal
Anand is an entrepreneur with a particular interest in the training and skills development of young people.
His executive and non-executive career spans professional services, data analytics, financial research, investment, change management and the emerging markets.
He is currently a non-executive board member of the UK Cabinet Office; a non-executive director of Lifescale Ltd, a financial technology company; and a trustee of Restless Development, a youth-led development agency working across Africa and Asia. Previously he was a co-founder of Amba Research, a provider of research and data analytics services with extensive operations in developing countries. Prior to that he was a Managing Director at Goldman Sachs.
Anand has lived and worked around the world in places as diverse as Hong Kong, the US, Costa Rica, India, Sri Lanka, the UK and Singapore. He has an MA in Economics from Cambridge University.
Tunde Banjoko, OBE
Tunde Banjoko is Making The Leap's Chief Executive and Founder.
The organisation is an inspirational youth and social mobility charity that makes a positive impact to thousands of young people every year.
In 2017, Tunde founded the UK Social Mobility Awards, an initiative to further advance social mobility as a priority for large employers. He is involved in mentoring young people and is passionate about equality issues.
Tunde has an MSc in Urban Regeneration from University College London and was awarded an OBE in the 2008 Queen's Birthday Honours List.
Rich Benton
Rich is an entrepreneur who has enjoyed a successful business career in the UK, and has driven the development of social entrepreneurship worldwide.
After qualifying as an accountant he joined Rod Aldridge as Founder Director of Capita, and was Sales Director for 14 years. 'Retiring' to become primary carer for his young family he then became Chair of Mouchel plc, a private engineering consultancy which listed as a public company in 2001.
Rich has founded two other start-up businesses, one a teacher supply agency which was sold to TES in 2014, and one just started, servicing the public sector supply chain. He is an angel investor in three other companies and has served as Chair of Eastlea Community School in Canning Town and of the S W Newham Education Action Zone. Rich was Chair of UnLtd, the UK's leading supporter of social entrepreneurs. Through this role he became an active supporter of and fundraiser for UnLtd South Africa. He is also a Founder Member of the Global Social Entrepreneurship Network. Rich's current passion is the development of Kwasa College, a 2-18 pre, primary and secondary school in the informal settlement of Daggafontein 30 miles south-east of Johannesburg.
Janie Chesterton
Janie trained as a solicitor with Bevan Ashford, (now Bevan Brittan), in Bristol, before qualifying there, specialising in representing largely public sector clients in the field of commercial, contract and procurement law.
In 2001 Janie moved to work as a senior solicitor for Bristol City Council, acting as lead negotiator on the Bristol Schools PFI scheme for the rebuilding 4 schools before writing the business case for and again acting as lead negotiator for the Bristol BSF scheme. After the scheme was signed Janie was asked to move to Partnerships for Schools, (now part of the Department for Education and Skills), working alongside such diverse authorities as LB Newham and Hackney, Birmingham, South Tyneside and Durham. After that she worked for an IT company as well as for a management consultancy.
In 2011 Janie moved to a newly created role of Education Sector Director for Willmott Dixon, a large construction contractor. During that role she was asked to be the Employer Director for the West Midlands Construction UTC and at this time Janie was also a member of the board of the Cabot Learning Federation – a multi academy trust of primary and secondary schools in SW England. Janie was Chair of Governors at Begbrook Primary School, one of the largest primaries in Bristol and was Chair of the CLF's Property Premises and ICT Sub-Committee.
In 2014 Janie moved to work with Welsh Government as an infrastructure and commercial adviser. She continues to undertake work for Welsh Government, specialising as a MIM Transactor for the new Velindre Cancer Centre scheme.
Janie lives in Bristol and has two daughters, both of whom attend state schools in the city.
Frank Hogan
As a manager in Royal Mail for over 37 years, Frank has undertaken various senior roles including General Manager, Major Programmes Manager, and an International Programmes Manager in Russia and Argentina.
For most of his career as a senior HR Manager Frank spent much of his time working with trades unions and managers to develop people-based strategy and innovation.
Alongside his Royal Mail Group experience Frank has spent many years volunteering in various director / trustee roles. He was a member of the CIPD Executive Board for 6 years and served 12 years as a trustee and board chair for Skylight Circus Arts in Rochdale, which offered life-changing circus skills to troubled or disabled young people. From 2009 his work took him to London where he immediately got involved serving s as a Trustee of the SHARE community in Wandsworth, giving skills for independence to severely disabled people.
Frank feels he is a great example of the power of great teachers to transform lives: he credits his teachers with his own transformation from the over-spill estates of North Manchester to graduating top of his MBA class.
When not working Frank enjoys golf, football, juggling, singing in a local choir and learning languages.
Caroline Sheridan
Caroline joined the Board in 2017 and brings a wealth of commercial and transformation experience from the corporate world.
She has held a number of senior positions with BT including the Director of Group Corporate Responsibility where she developed the 2020 strategy and launched the first UK major no fee online fundraising service to enable charities grow their online donations.
As Director of Consumer Broadband Caroline developed and delivered a significant growth programme and as the CEO of BT Payphones Caroline drove transformation, improving financial and business performance across the portfolio. As Vice President of Customer Experience for BT's Global customers Caroline focused on customer advocacy, creating an improved end to end customer experience to underpin the development of partnerships with major clients.
Caroline is a qualified marketer and also has an MBA. Her current interests include developing a property portfolio.
Jane Waters
Jane Waters has been the Head of Secondary School at Seven Kings School for five years and Director of the Seven Kings Teaching School (and previously training school) for 11 years.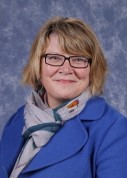 Seven Kings is an outstanding, high performing all through school in Ilford, East London, with a national reputation for professional learning and leadership training. It is an all-through school which welcomes children aged 4 to 18 from the local community.
The Seven Kings Teaching School Alliance has 26 schools from all phases and was one of the first 100 Teaching Schools. Jane has worked in four schools across London and has been a Head of Literacy and a Head of English and Media, as well as a National Strategies consultant and English Advisor for the London Borough of Redbridge. In the past six years Jane has supported schools in an Ofsted Category 3 to be judged Good in their next inspection, taking over the headship of one school for six months as well as leading a team providing school-to-school support in others.
Rob Wye
Rob read Law at Cambridge and then joined the Civil Service in 1976.
He worked first in the Department of Employment in London; then moved to Sheffield and the Manpower Services Commission, where he was responsible for Skillcentres, Internal Training, Open Learning and Learning Technologies. He then worked on Modern Apprenticeships, Youth Training, those young people not in education, employment or training and links between schools and business.
By 2000 Rob had become a Director in the new Learning and Skills Council (LSC), first locally in Northamptonshire and then in the head office in Coventry, covering Strategy; Communications and Marketing; and Youth and Adult Learning. He oversaw the ambition to find all 16-19 year olds a place in school, college or an apprenticeship. When the LSC split in 2010 into the Young Peoples Learning Agency (YPLA) and Skills Funding Agency (SFA) he was interim CEO of the YPLA.
In 2011 Rob left the Civil Service to run the Learning and Skills Improvement Service, whose role was to help colleges and training providers better serve their customers and improve their management and staff training. The Service was abolished by the Government in 2015, and after a spell as a consultant (including with the Aldridge Foundation), Rob went back to the Civil Service, heading up the Regional Schools Commissioner's Office for the West Midlands, where he became knowledgeable about academies and multi-academy trusts. Rob retired in January 2018, and joined the Aldridge Enterprise Board in September 2018. He is the Trust's Safeguarding Lead at Board Level.
Rob lives in Leamington Spa with his wife. He has two sons and two grandsons.